The technology is so advanced nowadays that things and concepts that were just an idea in the past, today are real and in function. One of the most interesting concepts that has come alive is the 3d printing technology which has facilitated the manufacturing process in different industries immensely since its appearance. It is a process which has replaced the CNC technology for production of small parts and has done it in a more cost-efficient way.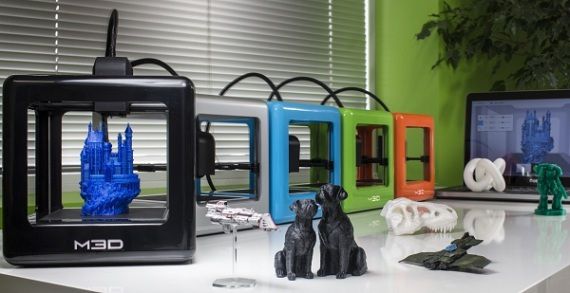 However, 3D printing application is not only found in the industry. Very often, a 3D printer can be bought for individual purposes, especially by hobbyists and technology enthusiasts. The development of the 3D printing process has resulted in several different types. Here is everything you should know about the three main types of three D printers for sale.
SLA (Stereolithography)
If you want a product that is done precisely and with lots of details than SLA 3D printers are the right for you. They are the oldest printing technology but still remain popular today. The way it works is it turns your models into a real 3D printed object. The process incorporates a uniquely designed 3D printer called a stereolithographic apparatus which converts liquid plastic into solid 3D objects. It uses mirrors known as galvanometers which aim the laser beam across a vat of resin and it solidifies a cross-section of the object inside the build area building it layer by layer. With this type of three D printers for sale, smaller objects can be printed approximately in 6-8 hours whereas a large or more complex print can take several days.
DLP (Digital Light Processing)
It is a type which is very similar to stereolithography. It makes use of digital micromirrors laid out on a semiconductor chip. This technology has found its way in the production of film projectors, mobile phones and 3D products. The difference between the two types can be found in the different source of light. DLP technology usually uses arc lamps and a liquid crystal display panel. This crystal liquid panel is applied to the whole surface of the building material during the single run of the DLP process. The finished printed objects are robust and have excellent resolution. Furthermore, a great advantage of the DLP technology is that fewer materials are used for the production of details which is great because it means lower costs and less waste.
FDM (Fused Deposition Modeling)
Last but not least, and in fact, a clear frontrunner as the most popular 3D printing technology today is the FDM printing technology. This type of 3D printing technology is used not only for printing prototypes but also for products that are ready to use including plastic gears, Lego, jewellery and many more objects. Additionally, architects, automobile companies, toy manufacturers as well as the food and medical sector uses this the FDM printing technology for manufacturing object fast that are ready to use once removed from the printer. The FDM printing process creates the objects from the bottom up on a heated bed and with help of an extruding thermoplastic filament. The FDM three D printers for sale support a wide range of printing materials along with the thermoplastic and there is a software which controls the operations of the X, Y and Z axis as well as the extrusion nozzle. A disadvantage of the FDM printer technology in comparison to SLA or DLP is that it prints with slower speed, but since the result is high-quality, manufacturer-grad 3D objects, it makes up for it.