Who says that sneakers are designed to be worn only in the gym?! The truth is that they have never been so IN. Nowadays, fashion designers have managed to "break this rule" by showing us, women, a number of appealing outfits with which you can wear sneakers. If not sure how to wear and combine them, it's enough to open Instagram or Pinterest, and you'll be amazed by the large selection of outfits. If not confident and not in the mood to copy someone's outfits, consider some of the most basic tips one can give for always being fashionable while wearing sneakers.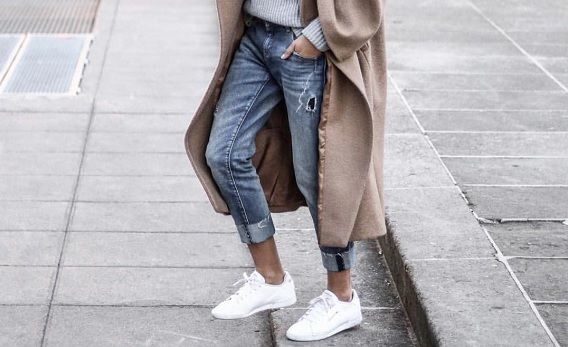 Sneakers are Made to be Worn with Cuffed Jeans
Just like any other type of footwear, sneakers for ladies are meant to be shown. And, according to fashion designers, when wearing them with jeans, the best way to do that is by cuffing them just above the ankle bone. When looser and wider, cuffing them is the ideal option, but if skinnier, you can easily cut them in order to achieve the needed length. The type of sneakers for ladies you choose can mainly depend on your personal style and preferences. You can choose from different colours, models, fabrics and looks, which means that choosing the ideal pairs won't be a problem. You know what they say, the more, the merrier.
Avoid Showing off the Socks
Although these days you can see a lot of girls who show off their socks when wearing sneakers, fashion designers recommend avoiding this new 'trend'. It simply doesn't look good, especially when wearing a business casual skirt/dress or pants. Nowadays, there is a large selection of low-rider socks that don't show which means that one can easily find the right type for the right sneakers model.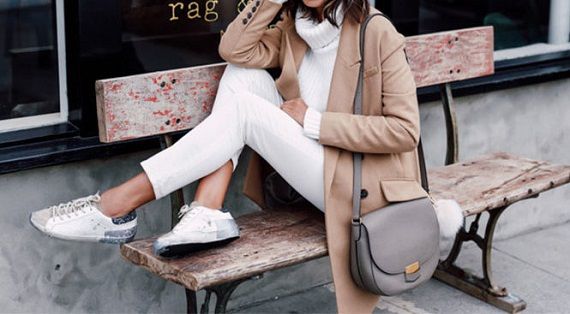 Solid Colour or a Classic Look?
Well, the truth is that a girl cannot go wrong by wearing solid colour sneakers or simple ones that can complement a classic everyday look. For instance, an everyday black and white combo (white jeans and a black top for instance) can be paired with a simple white/black sneakers with a few details of the opposite colour. When wanting to choose a type of sneakers for ladies in a colour that's not usual, fashion designers recommend coordinating it with the same top colour. For instance, a bright pink or red sneakers can be combined with jeans and a blouse/t-shirt in the same colour as the sneakers. When the weather is colder, wearing a coat would only highlight the whole outfit, just make sure to choose matching colours.
Don't be afraid to Match Them with Skirt/Dress
These days, it's not strange to see a woman wearing sneakers with short, midi or maxi skirt and dress. What's more, somehow this sight became usual and even appealing, so more and more women are relying on it when wanting to be casual but stylish. For instance, a dress that falls just above the knee can be paired with your favourite sneakers and a nice leather jacket.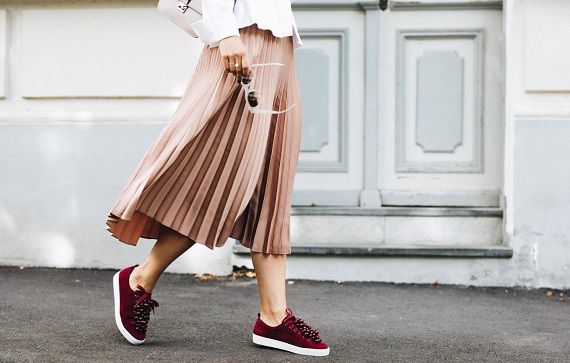 Match them with a Party-wear
Yup, that's right, certain types of sneakers for ladies can also be worn with party-wear clothes. For instance, a nice tutu midi skirt can be paired with a similar colour sweatshirt and some bright sneakers. This look is surely considered as chic and feminine, ideal for a date night or dinner party with friends. Dress shirts are another type of feminine piece of clothing that can be paired with a nice pair of white/black sneakers and sunglasses. This type of outfit can be worn on daytime when hanging with friends or when going on a family brunch. Except for this, a nice pair of sneakers for ladies can be paired with a romper and blazer in order to add a spark to the overall look.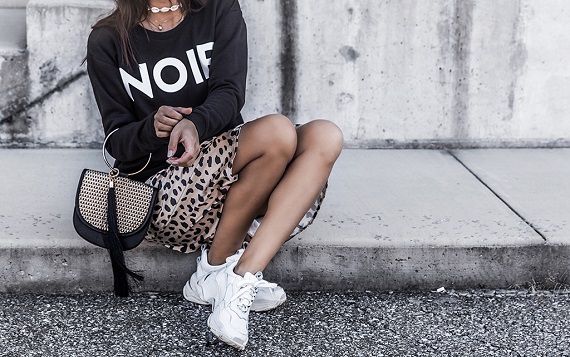 Ideal for Business-Casual Outfits
No matter how we women love to wear heels, when it comes to wearing them on a daily basis and for eight hours, foot pains are inevitable. So, if the work allows it, there can be nothing better for women than going to work with sneakers. Fortunately, there are lots of interesting business-casual outfits that allow for wearing sneakers, like jeans, shirt, blazer and sneakers. This is the go-to outfit combo for all women as it is the easiest to combine and wear. You can also pair a single toned outfit or fitted trousers with a shirt, blazer and of course, sneakers. Those who are in love with pencil skirts can also enjoy the benefits of wearing sneakers at work, just make sure you choose ones that are simple and ones that will match the colour of the shirt.
As you can see, sneakers can be paired with almost any type of outfit, you just need to make sure to pair them wisely. Think about the colours, models and type of clothing in advance. Then and only then you'll be able to make the right outfit choice.