Candles may be considered something simple and ordinary, but if arranged right and when lit, they have the power to turn an ordinary event to extraordinary in no time. They really do have the power to set the mood which is why they are an inevitable part of every wedding. According to wedding planners, candles and romance go hand-in-hand, and are the perfect way to enchant a wedding ceremony and reception. Although there are lots of candles available on the market, the white-like church candles are the ideal for the purpose.
The church style candles feature a pillar design and usually have a pointy top. The reason why you should choose them in white colour is because they will suit most wedding décor themes. Usually, they are available in different heights, so when combined right, you can achieve to create wonderful centerpieces. According to wedding planners, you can place them as a group around a clear fishbowl vase which is filled with flowers. This can help you create a wonderful and warm ambiance that will be adorned with the nice candle glow. Priceless. Now, except for using them as the ideal way to adorn table centerpieces, church-like candles are great for the use in the overall wedding décor.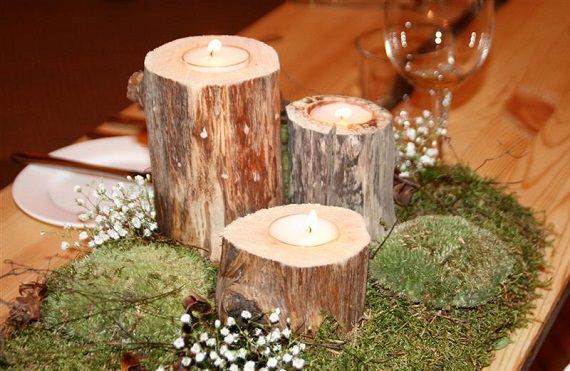 Tree Stumps
If you are a fan of the rustic design and decor, then you will probably love the idea of having a rustic wedding decor on your big day. If this is what you have chosen, then church candles of all sizes and green leaf flower strings can come in handy. For instance, you can use pillar church candles and tree stumps in varying heights with some greenery, flowers and a hint of moss in order to make an incredible wedding venue. Although rustic weddings and decorations look more spectacular when held outdoors, this rustic wedding décor can also be created indoors, thus helping you bring the outdoors in.
Note: It is better to shop in bulk especially for the candles as the price will be much lower. You can even order small church white candles and give them as wedding favours to your guests.
Floating Centerpieces
Floating centerpieces by itself surely have the power to bring that wow factor in a wedding, but when adorned with a nice glow, you can literally create magic. Except for placing candles in a fishbowl vase, you can use them in a combination with today's modern geometric vessels, adorn them with some seasonal flowers and add a taller and thin candle right in the center.
Note: Nowadays, except for the single candle geometric vessels, you can choose one that has space for several candles all at once.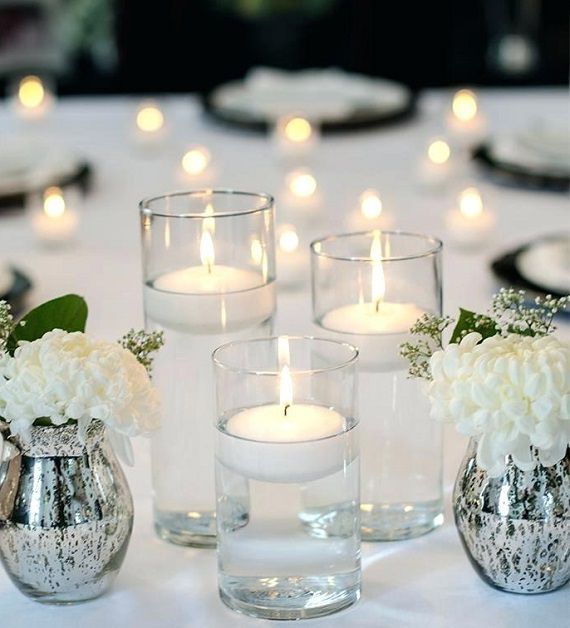 Accent Wall
Who says that the lovers of the industrial style and décor can't have an industrial-inspired wedding?! It only takes a brick wall, a few candles and floral pillars to create the perfect wedding photo background. Keeping the rest of the décor minimal is all you need to do. In case you want to add a simple glowing touch to the industrial simple wooden tables, you can add low church candles centerpieces combined with greenery. The light glow coming out of the greenery will be enough to create a romantic atmosphere while helping you create amazing photos and moments to remember.
Wedding Venue Full of Lanterns
Except for being used on the tables as wedding centerpieces, lanterns can be displayed as aisle markers at a garden or any other outdoor wedding venue. For instance, for a modern and contemporary type of wedding, the metal type of lanterns would be perfect, while the vintage, industrial and rustic lovers would benefit from wooden or lanterns in copper.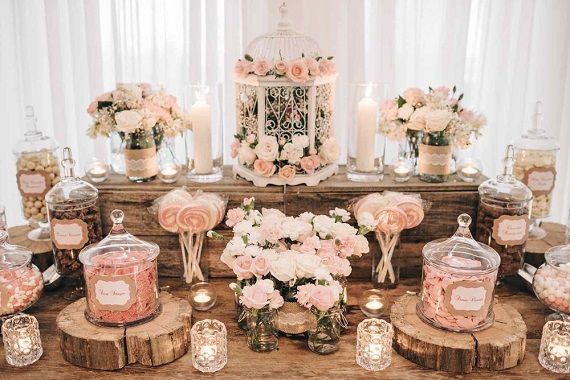 Wedding Candy Buffet
Candles have the power to give an accent on everything around them, which means that they should not be excluded from the sweets table. Except for placing one or two candles at the top of the table, wedding planners recommend concentrating on using them on the floor. Along with a green leaf flower string, you can turn the wedding sweet table into the most magical place. One that is lit and sweet!
Glowing Staircase
If there are stairs or pathway at your wedding reception, you can give them a nice and romantic glow by adorning them with candles. This, in fact, will guide your guests and lead them to the final destination, hence the party.
Fireplace Mantel
When not in the position to add candles on your wedding event except on the tables, fireplace mantels are the perfect space for doing that (if having one of course). Having lots of church white candles and in different sizes is what you will need in order to create a breathtaking wedding candle corner. This can be the perfect place where you can take pictures together with your friends while using the mantel as the ideal place for the drinks.