Though everyone loves to get away for a while and spend a weekend in a resort by the sea or up in the mountains, there's nothing better than coming back home. In the end, lounging in private in your own outdoor space feels a lot more relaxing than sharing a hotel pool with a bunch of loud strangers. So, if you have a spacious yard or a small alfresco, a balcony or a roof-top terrace – consider yourself truly blessed to own a dedicated outdoor space.
An outdoor space allows you to enjoy the comforts of your home as well as the fresh air and delightful scents and colours of your garden at the same time. But in order for your outdoor space to feel like a true respite from the daily stress, you need to make sure it's functional and looks good. Here are some tips on how to make the most of your outdoor lounging space.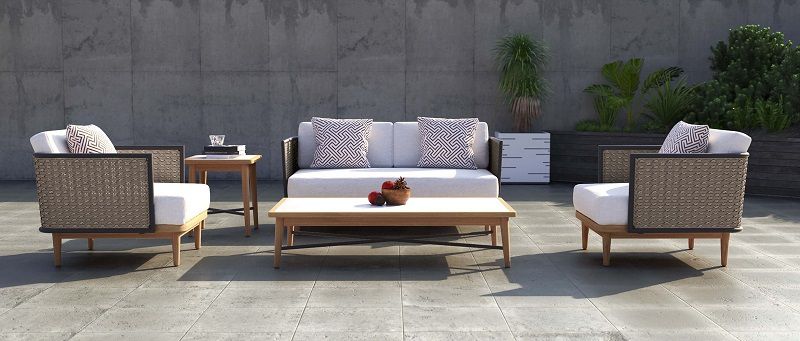 Invest in Furniture Made of Weather-Friendly Materials
Although you're completely free to use plastic Eames Rar chairs for your interior, when it comes to outdoor lounge settings, the rules on what kind of furniture goes and what kind doesn't are a lot stricter. After all, your outdoor lounging set needs to withstand all kinds of weather conditions from harsh sunlight, to strong winds and pouring rain. With that being said, it's important to opt for outdoor lounge settings made of sturdy and weather-resistant materials.
Rattan is a great material for outdoor use. Many outdoor lounge settings are made of mould resistant, 100$ waterproof, UV stabilized and durable rattan. It's also light and airy and goes well with other materials such as hardwood, metal and concrete. But if you want true longevity, pick a lounge set with a rust-resistant, powder-coated aluminium frame and comfortable cushions made of durable and UV resistant Olefin fabric.
If you want to add a vintage touch, opt for furniture made of wrought iron which has an old-timey mysterious elegance. Another great option is teak. Teak contains a large number of natural oils and rubber which form a later of protection against moisture, rot, pests, and sun damage. What's more, teak is also an especially attractive choice due to its golden colour and rich texture.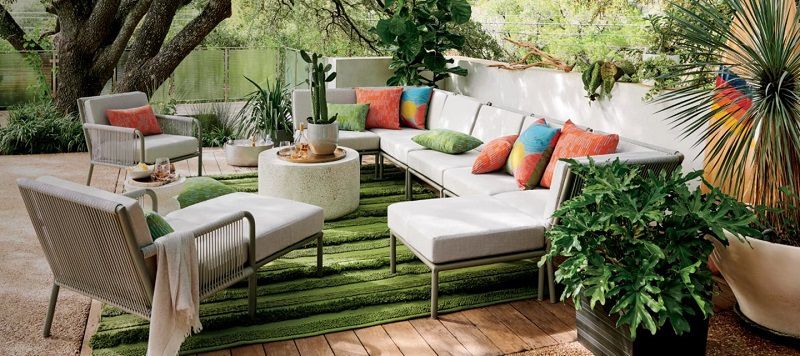 Consider Size and Capacity
Besides materials, size and capacity are other important factors to consider when it comes to choosing the right outdoor lounging furniture. Think about how your lounge set will fit in your available space, and make sure that it won't restrict the freedom of movement. Do you own a small deck or patio? In that case, a smaller rectangular or oval coffee table might be better than a round one, as it won't take up as much space. In addition, consider how many people you want to sit. You can choose from 4 people to 8 person lounging sets. However, it's often best not to go for a really large set as it won't be always used to the maximum. It's best to choose a set that's large enough can fit all the people living in the house. You can always add extra seats simply by having a stash of additional folding chairs.
Provide a Refreshing Shade
If you have a roof over your patio or deck, or an alfresco, you can lounge outside at any part of the day. But if your lounging area is in the middle of the lawn with the sun directly shining on it, nobody will want to use it. With that being said, you need to find ways to create a comfortable shade which you can chill under. This can be done in a variety of ways, the easiest of which is to place a large umbrella. Alternatively, you can provide shade for your outdoor lounge spot with a pergola with a tent-like roof, or even build a gazebo if you have the budget and time to do it.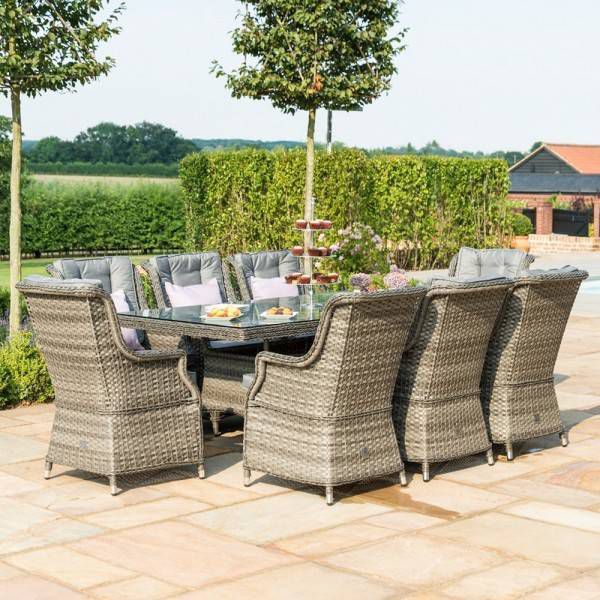 Don't Forget to Make it Comfy
Although sturdy metal outdoor furniture is definitely long-lasting, it does not exactly offer an enjoyable experience. To make your outdoor space more pleasant for lounging, consider adding a bunch of pillows and chair covers. These comfy accessories can also be used as a way to bring more colour to a neutral set of furniture. Additionally, you can also consider ways to make your space warmer, like for instance by adding a soft rug to cushion your feet, or some throws to snuggle under when it gets chilly.
Add Ambiance with Lighting
When it comes to illuminating small outdoor spaces, string lights are an all-time favourite choice and for some good reasons too. String lights produce a soft glow which creates a romantic mood once the night falls. They are also specifically designed for outdoor use, with many models that can be battery operated if your space lacks an outlet. Another option is lanterns which can also be used as a vintage décor element.