We humans have always had a need to store things as much as we need to have some shelter. Sheds have proven to be the ultimate storage building for household especially in the Victorian era when almost everyone had some sort of a shed or storage unit. The word shed is derived from an old Anglo-Saxon root word that means separation or division. Sheds date around as early as prehistoric people and while back then the materials they were made of were different their purpose was the same. Be it for gardening, storing bikes or just keeping essential tools safe from the elements and thieves a shed is an important part of your yard.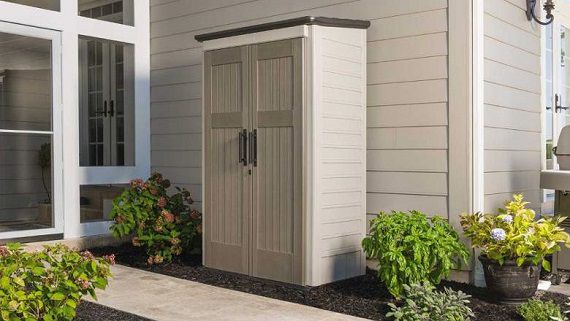 What to Look for in Outdoor Sheds
Material
The materials a tool shed is made of can tell you a lot about how durable and strong it will be. For example, a metal outdoor tool shed is going to be the most secure as it has a strong construction which is usually reinforced with integral locking systems. Metal sheds usually come powder-coated which makes them more durable, tougher and weatherproof too. Most metal sheds don't have windows either which makes them ideal when you want to keep valuables out of sight.
Wooden sheds are the most aesthetically appealing option since they give you this natural look in your backyard. Wood isn't as strong as metal tough and it needs to be treated in order to keep termites and the elements from causing damage to it. Wooden sheds are also subject to warping which causes the material to move when exposed to different weather conditions.
A more modern material that sheds are made of is plastic. Plastic sheds may seem like a bad choice but when it comes to maintenance and affordability they are quite the opposite. Plastic tool sheds do not require any maintenance and are the cheapest among the three. They are lightweight too which is why you need to be anchored so they don't get blown away by high winds.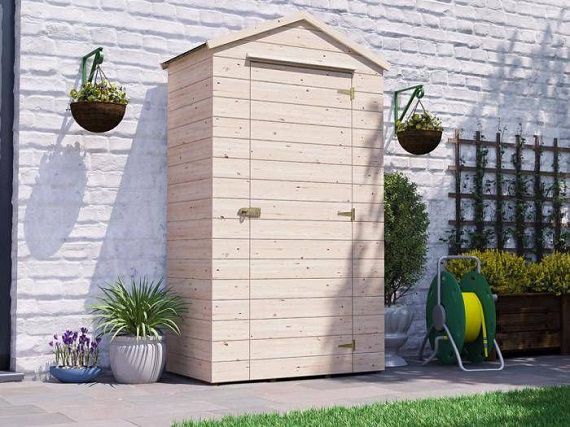 Roof
The roof of tool sheds can be an apex, reverse apex or pent roof. An apex roof is the traditional roof shed style which gives you the most amount of head space at the middle. Apex roofs are the most popular choice which unlike a pent roof do not slope. Pent roofs are called lean-to shed roofs because of the back to front sloping and they offer the most headroom at one end. These are flat roofs which are best if you want to put up tools against the wall or under low branches. Sheds with a reverse apex roof have the door(s) on the non-gable side and they usually have a window next to it. Reverse apex shed roofs are used when you want to have a large workspace - the best choice for a workshop in your backyard.
Windows
If your shed is going to be used only for storing items then windows are not going to be needed but if you are going to do some work you'll need windows. Although windows provide the shed with much needed sunlight hey can also be an easy way for a thief to get a good view of what's inside. In this case, you might want to consider getting a shed with skylights.
Base
No mater the type of shed you want to get it needs to be placed on a flat levelled surface otherwise it will have it's windows misaligned and it will shift. If you are going to place your shed on a hard surface such as concrete usually you won't need a base but if the shed is going to sit on grass then you should have a base. Shed bases, much like sheds themselves are made of steel, wood or plastic. Wooden and plastic bases are great on soil but if you want to add extra security and reinforcement a steel base can be used on concrete. This way you can fill the metal frames with concrete and have both a base and a floor.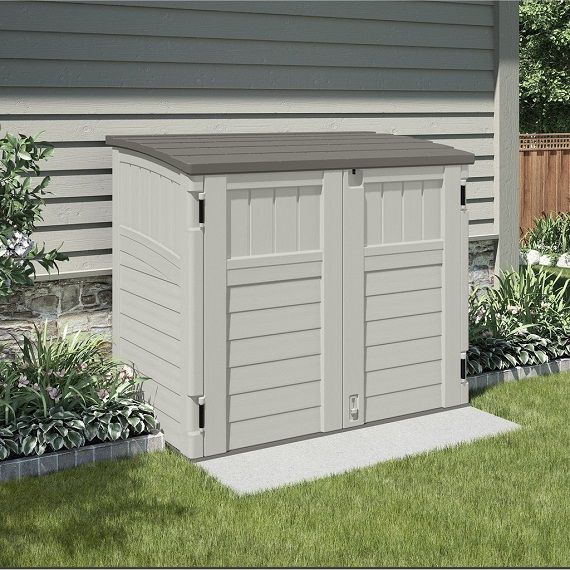 Organising Tips
Shelving
The first step towards a tidy outdoor tool shed is with the use of shelves. Open or not, freestanding or fixed a good set of shelves will not only keep everything organised but it will increase storage space too. Organise shelves by the tools you use the most so that those tools are in the middle and easily accessible. Heavy items should be placed on floor level for safety reasons and whatever is rarely or seasonally used can be placed on the top shelves.
Peg Board
A tool shed isn't complete without a peg board which will give you not only more storage but also more flexibility. A peg board can be adapted to your liking and also as your the selection of tools expands. You can use anything from hooks and brackets to plastic cups and you can even make pegboard sliders for even more storage space.
Magnets
Magnets can make for a convenient storage space. You can put your most commonly used tools such as screwdrivers, pliers, files and other metal tools on a magnetic tool holder. This will make it easier to get to a tool and to put it back in it's place as there are no hooks or special holders that you need to hang them on. Magnets are also great for storing paintbrushes as the bristles can not get damaged.
Chemicals
Chemicals should be kept out of reach of children and pets and they should be away from direct sunlight too. If you are going to store fuel of fertiliser make sure that the shed is well ventilated and that they are not close to each other. Chemicals should be stored in their original packaging together in one place. Heavy-duty plastic bins are the best place to store chemicals.