In the past, all the furniture was made of solid wood. Then new methods of mass-producing and manufacturing furniture were invented and changed the furniture industry. The materials used were of lesser quality and the quality of furniture decreased. This type of furniture is highly available today. As a consumer, it is up to you to go for less expensive furniture made of particleboard, veneer and plastic. But know that you will be given on quality as well. Even after all these years and with all the technology available, a beautiful piece of solid wood furniture is still irreplaceable - both in quality and look.
It is true that wood furniture costs more than laminate, veneer, plastic and other furniture. Solid wood simply cost more and are more time consuming and labour intense to craft. But that higher upfront investment pays off in plenty of ways, as there are so many benefits of investing in solid wood furniture.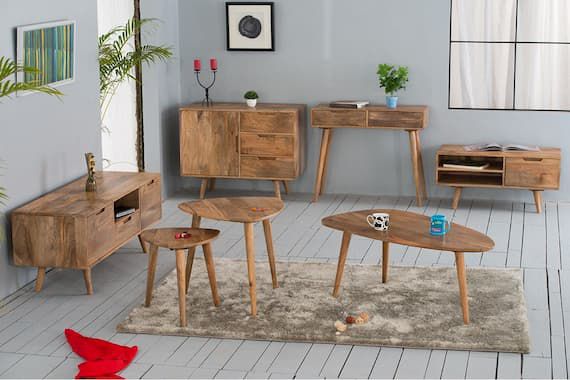 Natural Look that is Always on Trend
Timber furniture has the ability to add a rich, elegant and sophisticated look to any room in the home. No other piece of furniture is the same as a piece of wood with its unique grain, texture and natural design. You can choose from a variety of wood species including maple, walnut, oak, hickory, oak, cherry and elm with a range of finishes.
Strong and Durable
Quality timber furniture is strong, and if cared for properly, can last for decades. With little maintenance, it can withstand wear and tear. And if the furniture starts to show a little wear, it can easily be restored with refinishing. Furniture made from other materials usually can't be restored.
Easy to Clean
Wood furniture can be cleaned easily by wiping it down with a duster or wood cleaner. You don't have to worry about dust, dirt, pet hair or other allergens collecting on it like upholstered furniture. If there is dust, just give the furniture a quick wipe!
Valuable
Wood's natural grain ensures that the furniture is unique and can fit your home's decor style, even if it changed over the years. Spending money on a piece of furniture that you can pass onto your children and grandchildren is always a good investment.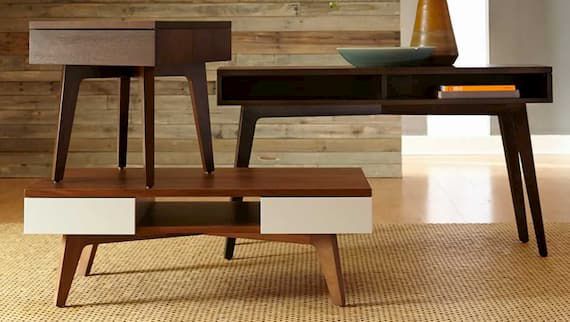 Sustainable
Veneer and plastic materials are heavily processed with many chemicals used during manufacturing. The trees used to produce wood furniture can be replenished as is processed in a way that is much more natural and less harmful to the environment. Low-quality furniture doesn't last long and that means they constantly end up in landfills. Wood furniture, on the other hand, lasts for generations, and if it does get thrown out for some reason, it will naturally decompose and return to the earth.
It can Be Transformed
If at some point down the line you decide to change the look of your timber furniture, it can be conveniently done with sanding, staining and refinishing. So, when you decide to switch things up, you can simply adapt these pieces to new looks, rather than replace them unnecessarily.
Types of Wood to Look For
When looking to buy natural timber furniture, one of the most important things to consider is what type of wood you want for your furniture. There is a range of wood types to choose from, and while most are about the same when it comes to durability and strength, they differ quite a bit in appearance. Some types of wood are light coloured and very smooth while others are dark or rough to the touch. Here are the most popular types of wood furniture.
Ash
This is one of the lightest hardwood options available. Ashwood is smooth and somewhat flexible, the reason why it is often used for curved pieces of furniture, such as chairs.
Maple
Another lighter hardwood known for being extremely durable and heavy. Maple hardwood is also resistant to moisture and easy to paint or stain - you will see this type of wood available in different colours.
Rubberwood
A light hardwood that is similar to maple. Furniture manufacturers use rubberwood to make everything from desks to cabinets. However, this type of wood needs to be properly sealed and stained to stand up to regular use - an important thing to keep in mind.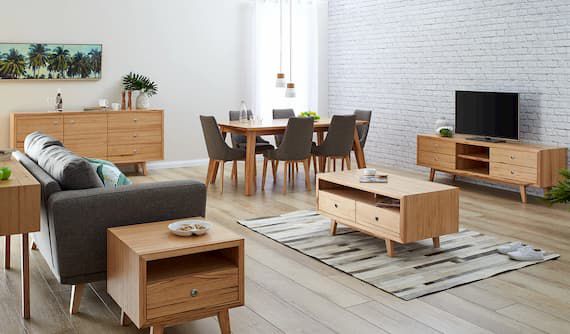 Oak
This is one of the most popular types of hardwood available. This is thanks to its hard, heavy-duty nature. You can choose from white oak, which is a light brown or grey shade, or red oak, which has a red tint to it.
Walnut
If you are after a slightly darker hardwood, go with walnut. This wood is available in different shades of brown, being a chocolate hue the most popular. Walnut hardwood is also hard without being too heavy.
Mahogany
This is another darker hardwood. It is often either medium brown or reddish-brown. If you like furniture that features lots of ornate details, look for mahogany pieces, since it is good for carving and staining.
Acacia
This type of hardwood is often deep brown, with a rich, warm feel that can make any home look a little more elegant. Acacia is resistant to scratches and water damage, so it doesn't show wear and tear easily.