Axes and other heavy objects were the tools used to cut wood before the chainsaw was seen used in England around the first quarter of the 19th century. Although the origins of the modern chainsaw are unclear, one example, in particular, is the osteotome designed in 1830 by a German orthopaedist called Bernhard Heine. This type of chainsaw was used for medical purposes like much of the ones that followed it. It wasn't until the early 20s that the chainsaw became powered by electricity.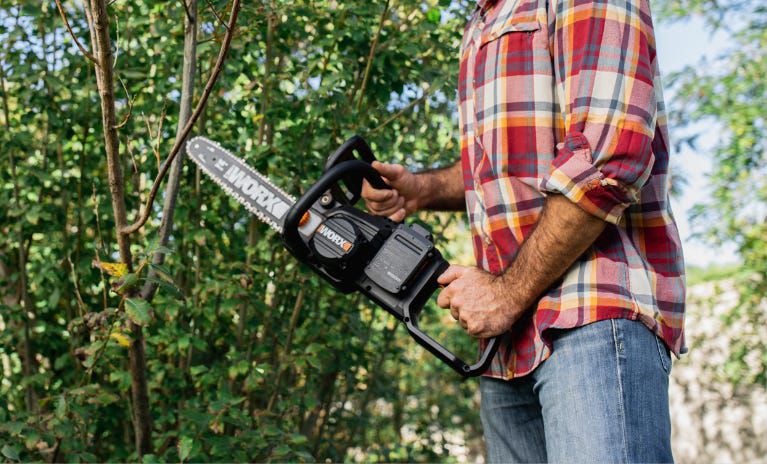 Throughout the years different materials were used to make electric chainsaws lighter and by the 50s there were models that could be operated by one person. In 1964 anti vibration systems were starting to become standard and in 1972 the chain brake was introduced for improved safety. In 1982 the quick stop function was introduced which was an automatic variant of the chain brake and in 1991 automatic start was introduced too. Nowadays cordless chainsaws have become the standard when it comes to cutting wood efficiently and safely.

Benefits of Cordless Saws

Easy to Use
Back in the day chainsaws may have required two people to wheel them in and use them, nowadays this has changed drastically. With a cordless chain saw you only need to push a button to start using it. They are light and easy to carry whilst being made of parts that need very little maintenance too.

Safer
A modern battery chainsaw is a lot safer than a corded one since they have lower chain speeds and bars no longer than 45 cm. Cordless chainsaws also usually have a chain that only turns on when your are actively using the saw.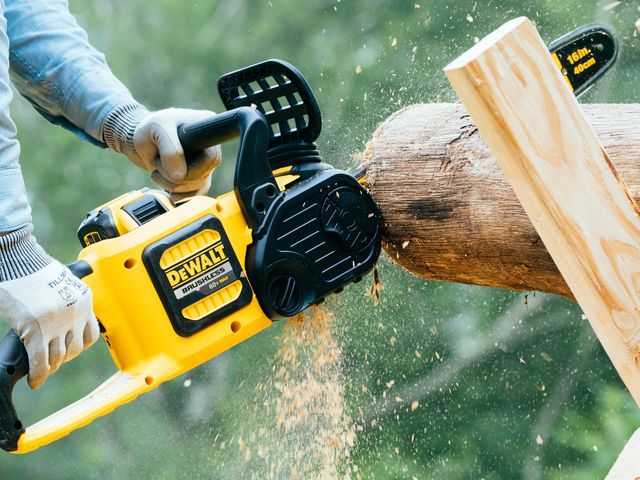 Convenient
Cordless saws are more convenient since they have no wire for you to carry around with it or trip over from. This means you can set up your workspace anywhere and work with versatility on your side. Just make sure to keep the bar oil filled and the chain sharp and tensioned and you're ready to go at any given time.

What to Consider

Runtime
When you want to get the most out of performance, runtimes are going to be an integral part. The more you're able to do out of one charge or fuel tank the less the time you'll need to spend switching battery packs and refuelling. Less hassle leads to a more productive workflow and that's what you want. You can also find saws with rapid chargers to reduce the amount of downtime to a minimum.

Bar Length
What's closely related to the power of a battery chainsaw is bar length. A short bar (40 cm) will allow you to work on small branches and light wood chopping whilst a mid-sized bar (45 cm) is going to be ideal for general purpose tasks and small trees. Chainsaws with a large bar length (50 cm) will provide professional users with the ability to cut large trees as they come with big gas motors and are thus quite bigger.


Battery & Charging Times
Batteries have changed even with chainsaws as the once standard Ni-Cad (nickel cadmium) batteries are now being replaced by lithium-ion. These new batteries are not only more efficient and larger in capacity than their cadmium counterparts but they also take less time to recharge. The once 12 hour charging times are going to be down to 1 hour with lithium-ion batteries. Just make sure when searching for a battery that it has enough voltage, amp-hours and amps too.

Tensioning
When using a battery powered chainsaw the chain stretches and it loses some of the tension. This is where chain tensioning is important and your chainsaw should come with a scrench that will allow you to loosen the bar and re-tension the chain with it. You won't need this tool if your chainsaw is powered by electricity.
Lubrication
If you go for a more affordable chainsaw expect lubrication to be on your part as these do not have an oiler that adjusts the amount of oil used for the wood that you're cutting. Chainsaws that do that are more expensive but will rid you the hassle of adding oil yourself.

Gas vs Electric
One big debate you will probably have is whether to go with a gas or electric powered cordless chain saw. Both of them have their pros and cons but what you should take into account first is what you want from your chainsaw. If you want a chainsaw that is going to be quiet yet efficient enough to do simple branch removal and cutting light firewood then electric is the way to go. Don't get me wrong, there are some powerful electric chainsaws on the market but they can't match the power of gas chainsaws.

Gas powered chainsaws are going to be louder, simply because they are more powerful than electric ones and they are usually larger too but you can find smaller more compact gas chainsaws. With a gas powered chainsaw you also get more maintenance on your hands since you need to ensure that there's enough fuel to run the tool which isn't the case with electric saws.