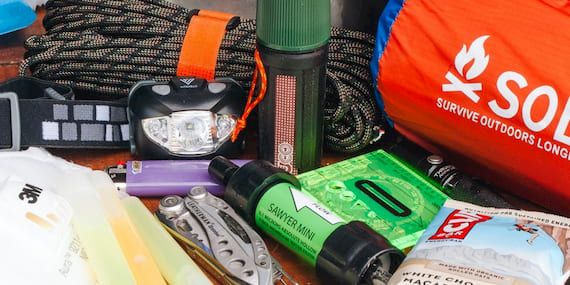 If someone were to tell you on the New Year's Eve, just before we entered 2020, that the whole world will stop in the month of March, what would have been you reaction? Would you have just smiled and moved on with your party?
Emergencies are not popular, but they do happen. And it is those rarely expected events with extreme impact that get us. 'Black swans' as Nassim Nicholas Taleb would put it. We all know that during the last decade we had our share of biblical floods and fires here in Australia. People in other parts of the world have their concerns, like widespread disruption of the electric grid due to EMPs.
One way or the other, it is better to be prepared for these occurrences before they come about. There is a whole community of preppers, or people studying survival skills in case they need to use them one day. And putting together a bag with the bear necessities to leave your home is a staple in those circles. A bug out bag as it is called.
No bug out bag will be complete without basic navigational gear.
Compass You Can Count On
It is a sort of a cliche among survivalist to say that the best survival gear in a survival situation is "the one you have." So anything goes as long as it gets you to a safe location in one piece. In theory you can use many natural objects for navigation. It starts with the position of the sun or the stars in the night sky. You can even use tree growth patterns to determine true North. In reality this is useful only to experts or to people that already spend much time in the wilderness anyway.
For all the rest of us, there is a compass. To use a compass you just need some basic training and you are off. But what exactly you would look for in a compass?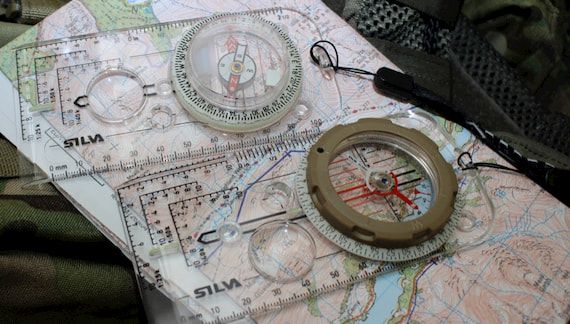 To begin with, there are three types of compasses on the market: button, baseplate and lensatic compasses. Button compass, as the name suggests, is the size of a button and can be stand-alone or built in other piece of gear. Although this may seem appropriate in a survival situation, it is actually not recommended to use these in a survival setting. They are of poor quality and can cost you a lot in the wild. Baseplate compass is usually made of transparent plastic base and it is used for outdoor orientation. They are sort of mid-range compasses. And then there are the lensatic military issue compass. They are housed in a tough case, that is foldable. The bearings on these beast are very accurate.
We would advise you for go for decent multifunctional silva compass, but don't over do it. The lensatic compasses used by infantry and special forces to call in an air strike will not help you survive. They will only unnecessary complicate things for you.
High quality silva compass has a magnetic North arrow, bearing markings, straight edges, and durability. It is what you truly need from a compass. You can practice navigation and orientation and get the hang of it pretty quickly. Then with a map and simple math you can find your way out of every terrain.
Some models have built-in signaling mirror, a magnifying lens, and a sighting hole that aids in finding your bearings. These are optional elements, but not a must have in a survival situation.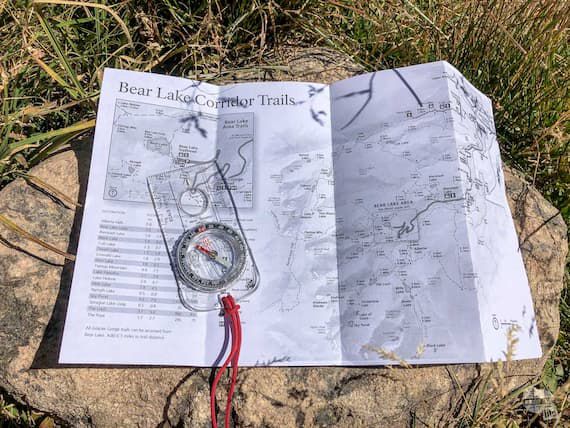 Up-To-Date Map of the Immediate Area
Opinions vary on this topic. Some survivalist will tell you that you don't require an elaborate map to get to safety (whether that is as far as possible or as close as possible to a city). Other argue that you can't even start without a reliable and info-packed map of the area.
So, a topographic map of the hinterland is something you want to seriously consider. And yes, we are talking about old-fashion map on paper with clear indication on scale. It is the ultimate path finding tool.
Navigational importance of other bug out items
Electronic navigational gadgets
In this day and age there is a plethora of electronic navigational aids. Devices that are not exclusively used for navigation can have good software and offer support. Some even provide chart-plotting assistance and warn you when you rear off course. However they all depend on other systems and on power supply. In some types of emergencies (like an EMP) you can not rely on them. The scenario in which your phone or GPS gadget is simply out of the picture is not far fetched. Your phone can take a dive in a stream, or you can be left without spare batteries. They are good to have on board, but one can do without them.

Signaling and Sharing Your Position
There are numerous survival tools that can be used in a rescue operation. You can use a mirror or a safety whistle to send distress signal towards a rescue party that is within sight. You can use one way or two way radio to broadcast your position or to open communication channel and exchange vital information. Flashlight with a powerful beam can be used to share your position during night time.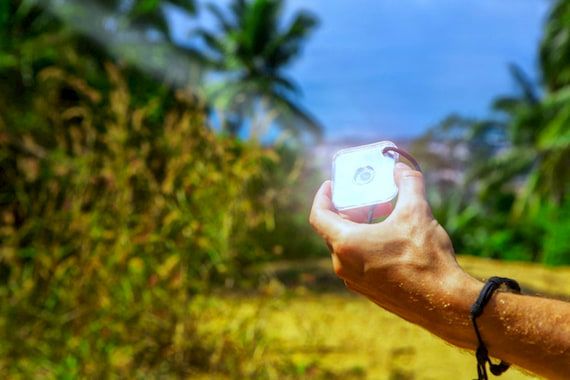 Noting Movement and Relevant Data
Bug out bags are also equipped with waterproof notepads to write down relevant info. In terms of navigation this can be a way to record details like the exact time of day (if known), the direction, the bearing, so that one can determine the speed of movement. This can be very important if your group is on a multi-day trail. You will have baseline indicator on the capacity of your group and project plans for the future trekking days according to this info. Or it can be as simple as having your bearing noted on paper in case you suddenly drop your compass and lose the bearing.

Navigating in Low Visibility Environment
Having a proper headlamp to lead your way is a no-brainer in this case. Also if you are a part of a group consisting of several members you might need a piece of rope or paracord to keep track of everyone. They can all strap themselves onto the rope attached to the team leader. This will relieve many of the worries pertinent to moving in low visibility (fog, night). If someone falls behind, everyone in the group will be alerted at once and they can check the issue before continuing further.