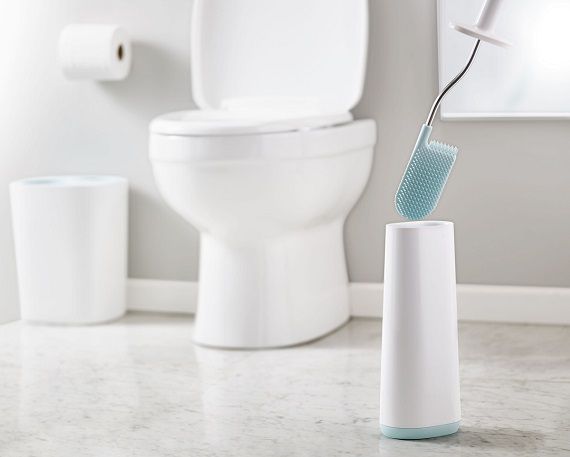 Bathroom accessories are essential for everyday use, but they're more than just practical items. By choosing the right ones, you can easily determine the style of your bathroom and highlight its features. Some of the most common toilet accessories you'll find are toilet roll holders, toilet seats, waste bins and toilet brushes.
A toilet brush is one of the most necessary cleaning tools for any bathroom, but very often overlooked. Usually, it's chosen in haste without giving a lot of thought. But there are many designs and types of toilet brush heads and holders and a few factors to consider when selecting a toilet brush set for your bathroom. Read on to find out more about the different types of toilet brushes and how to choose right.
Different Types of Toilet Brushes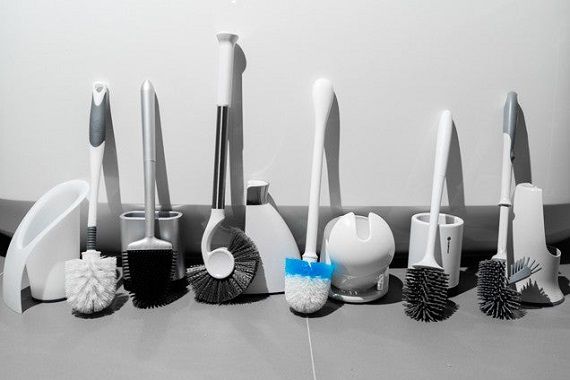 At the most basic levels, toilet brushes are divided into categories based on differences with the head of the brush or the handle. For many, the type of brush is more important than the handle because it's the part that will be cleaning your toilet. You can find a variety of toilet brush heads and choose the most convenient and effective for you.
There's no right or wrong, it simply comes down to personal preference. If you find a toilet brush can complement your bathroom décor, you can choose a designer toilet brush, but if you see it as a strictly utilitarian accessory, a good toilet brush with a natural or synthetic brush head can do a great job at scrubbing a toilet. Cheap brushes and brushes with wire bristles can damage toilets, so be mindful when making a final decision.
Symmetrical
Toilet brushes come in symmetrical rounded shapes or angled designs. Symmetrical brushes are rounded and have a uniform shape and are an excellent solution for reaching hard-to-reach areas like under the rim. They're also a good choice for toilets that don't have sharp angles.
Angled
Angled brushes, on the other hand, have an angled head and are usually stiffer than the symmetrical ones. They can easily reach angled areas and clean under the rim. To avoid splashbacks, use caution and don't make quick movements when scrubbing the toilet.
Different Types of Handles or Toilet Wands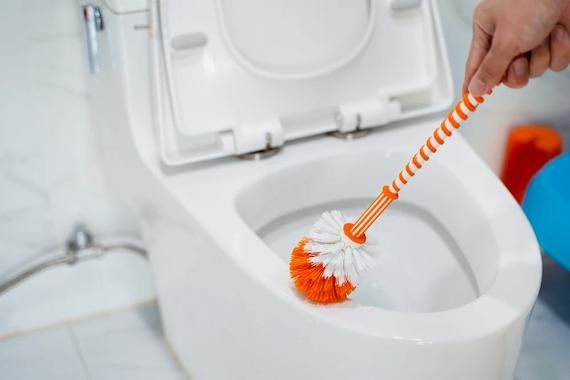 Plastic
Brushes with plastic handles are light and very convenient for any bathroom style, which makes them one of the most popular choices. It's important to disinfect your plastic toilet brush and clean it properly.
Stainless Steel
Stainless steel is also a great choice as it can be even easier to clean than plastic. Most of the time, washing it with soap and water is enough to get rid of germs. The reason for that is there are not any crannies and nook where they could hide. Stainless steel toilet brush may be heavier than a plastic one, but it's more durable and stain resistant. All you'll need to do is wipe the handle down with a clean towel after you've finished cleaning the brush and it will keep its clean look for a very long time.
Long
A long handle brush will give you more reach and is a good choice if bending down causes you pain and issues. Just keep in mind that it will take up more vertical space when not in use, so make sure there's enough room for it next to your toilet seat.
Short
A short handle toilet brush is easier to use and control than a long handle brush and allows you to put more scrubbing power while cleaning. However, you may have to lean down to reach the toilet. Also, try to always wear gloves when cleaning with short toilet brushes. Make sure to sanitise them and wash your hands after each use.
The Toilet Caddy
Known as the toilet brush holder as well, it's used to hold the handle when not in use. Usually, they come together with the toilet brush and are designed to completely enclose the brush head to achieve a cleaner look.
How to Clean Your Toilet Brush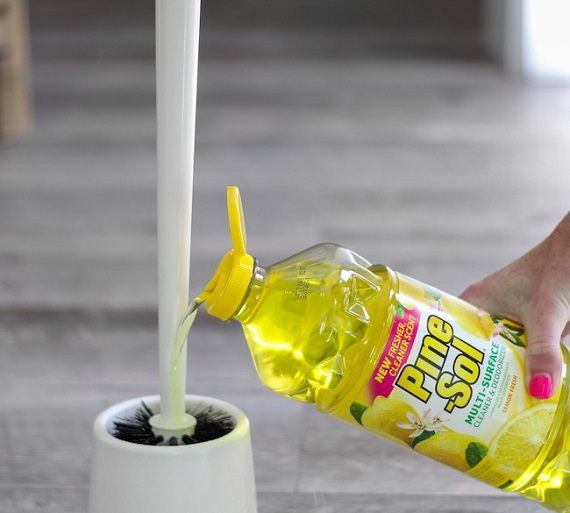 Your toilet brush takes care of some of the most unpleasant cleaning tasks in the house. Each bathroom in your home needs a toilet brush. And if you're interested in getting the job done as quickly and thoroughly as possible, your toilet brush needs to be thoroughly disinfected and kept away from areas where it could cross contaminate with bacteria.
Use your cleaner of choice and let it sit for a while. Then scrub thoroughly and flush and repeat if necessary. Flush again and rinse the toilet brush in the clean toilet water. When you're done, put the toilet brush between the bowl and the toilet seat. This will hold it in place and allow it to dry. Spray it with disinfectant and make sure to let it drip dry for ten minutes or so, before returning it to the holder.
For taking proper care of your toilet brush, it's important to prevent what you're cleaning out of the toilet from hanging out on the brush or in its holder. You can also clean the toilet brush holder by spraying it with disinfectant. Leave it for ten minutes and then rinse it under hot or lukewarm water.