If you share a passion for cooking and working in the kitchen, an apron will be your essential cooking attire at all times. Being the necessary component of every home kitchen, an apron can be a great stocking stuffer for a family member or the perfect birthday gift for a friend who always cooks delicious meals for you. Kitchen aprons have been around for a long time, so have you ever pondered why they've become so popular and why it's so important to wear one when cooking?
Aprons offer several advantages, which is why they are so popular in many kitchens. Aprons are employed in restaurants and for at-home use for a variety of reasons, the most important of which is to protect your clothes from spills and stains. Aprons may also be used to clean your hands because you won't be washing your hands every time you touch something. We are all aware that aprons offer various benefits, including the ability to be worn for sanitary purposes by concealing the front of the body. To protect the inner clothing from dust, filth, spills, and debris when cooking, serving, cleaning, or working on a creative project, aprons protect your garments by acting as a barrier.

A Short History of Aprons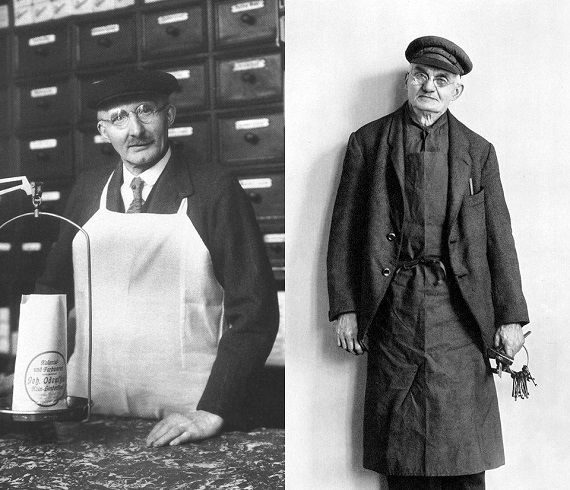 It's difficult to say when the first apron was invented, but according to some reports, aprons were worn by ancient civilizations, including Egyptians who wore them during rites and celebrations. Ancient Gods are frequently shown wearing aprons, which were eventually adopted by priests and even made an appearance in the Bible. The Age of the Bronzes The Minoan culture of ancient Crete had a fertility goddess who was supposed to wear one. Aprons were also worn by ancient Egyptian pharaohs and Assyrian priests.
The phrase comes from the French word napperon, which refers to a little decorative tablecloth akin to a placemat. Throughout the Middle Ages and Renaissance, aprons were so unique that you could recognize someone's occupation by them: barbers wore checkerboards, butchers wore blue stripes, and butlers wore green. Women at the period wore finely embroidered washable aprons to protect their expensive gowns. When sewing machines became popular in the nineteenth century, the traditional apron witnessed a boom in new forms including bibs, frills, and lace.
The apron initially became a domestic emblem in the Middle Ages, and it was primarily connected with housewives, labourers, and artists. Certain trades began to wear unique aprons to highlight their vocation. Bakers wore checkered ones, while cobblers wore black ones to protect their clothing from the black wax used on shoes. They were initially regarded fashion items in the 16th century, but through time they came to represent a wide range of concepts. A cultural icon, a symbol of entrapment and sexism, and a fashionable item that promotes health and nutrition were all among those concepts. Following World War II, it symbolized an unbroken family, which everyone desired. However, it rapidly came to represent the domestic woman and stay-at-home mother, which people pushing for equality decried. In these recent days, kitchen aprons are a fashion statement, an expression of one's personality, and a symbol of good eating, and they do not appear to be going away anytime soon.
Different Styles of Kitchen Aprons
Before purchasing an apron, you must not only decide on its style and design, but also on the material from which it will be made. Cotton or muslin are the most popular materials used to manufacture aprons and the most common choice for cooking aprons. An apron made of rubber or nylon is another option. These are more commonly employed in industrial settings since they are better for conditions in which the user may become wet or may be exposed to hazardous chemicals. Leather and denim are popular fabrics for aprons since they are extremely robust and long-lasting.

Bib Aprons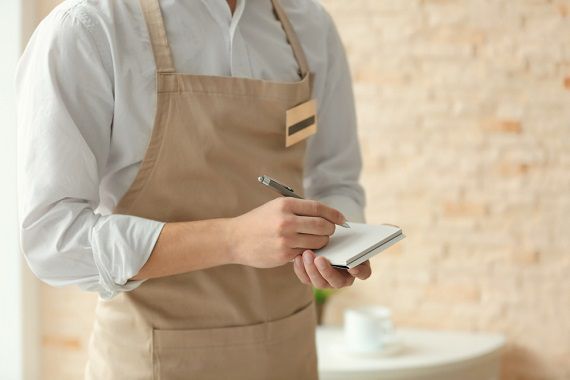 Bib aprons are the most well-known form of an apron. These aprons include an adjustable loop around the neck and a tie around the back at the waist. With full-body covering protecting the torso up to the knees, and a loop or ties around the neck and waist, these kitchen aprons are a must-have for every aspiring cook. They're the most versatile aprons on the list due to their coverage, durability, and utility. Many of these aprons also feature front pockets. They can be used at home or at work, although they are most commonly seen on the back of the house personnel at restaurants. They provide nearly full-body covering, so you don't have to worry about getting spilt on. They're also the most popular cooking aprons for domestic usage for the same reasons.

Denim Bib Aprons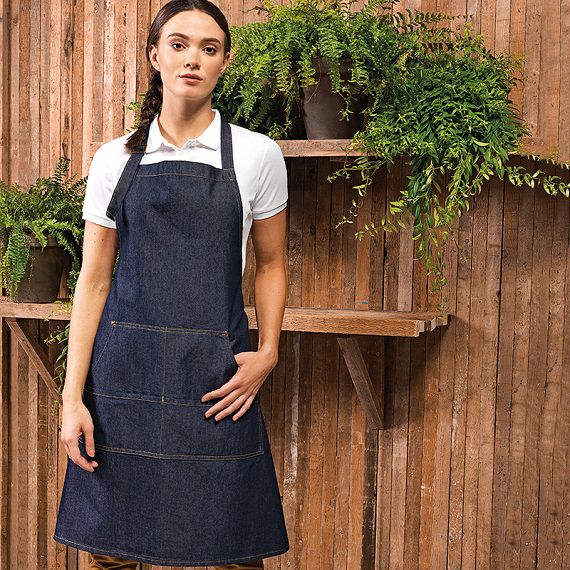 From a rustic Indigo Denim to a statement Black to a washed-out beachy Light Blue, we've got you covered. Denim in various hues provides a timeless canvas that exudes confidence in your personal style. Denim may be worn for nearly any occasion. Denim was created originally as a fabric for workers who needed a heavy-duty, long-lasting fabric that could endure harsh circumstances in day-to-day jobs. Denim's strength comes from the extremely strong twist in its cotton yarn, and the little natural stretch of these threads allows the fabric to mould to shape with use and time.

Waist Aprons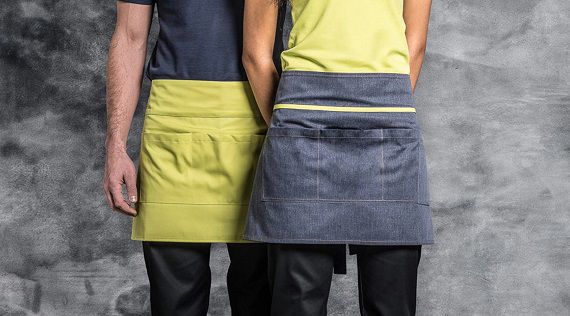 Like most of the names on this list, the "waist apron" alludes to the location where this apron would be used. Waist aprons cover only the lap region and stop at the waist. Waist aprons, often known as server aprons or half aprons, are widely used in the hospitality and catering industries. It is often rather short, covering the hip area and allowing for simple leg mobility. Front pockets on waist aprons are designed to carry pens, pads, and other small things. Waist aprons are fastened by tying them around the front or around your back at the waist. The simple use of these aprons is their goal, as they do not provide much protection from spills and stains. Kitchen employees may also wear similar aprons, although due to the lack of protection, this is a less common occurrence.